Surveys are the best way of gathering information from the audience. In this article, we have discussed the pros and cons of surveys that you should know about which are based on the data requirements for your business. If you need to know how the customers will perceive your business, its products, and services then a customer survey is what comes to your mind at first. Surveys are of great help for businesses having a larger customer base as it becomes easy to collect user responses. When you run customer surveys asking people about their likes and dislikes, improvements, suggestions, and compliments on your products or services, what you do is collect data that would help improve the quality of services and plan better for future product releases. This, in turn, helps your business to grow and stay focussed on fulfilling customer requirements also the customers feel they are taken into consideration and their voices heard. This gives rise to the business-customer relationship and builds in the minds of the customers. So What are the Pros and Cons of Surveys? Do surveys have cons? We can't really describe it as cons but Surveys have their Limitations. Also Read: Find out, What Theme a WordPress Website is Using?
Pros and Cons of Surveys
Pros (Perks)
Easy to Create and Simple to use
It has a Wide Reach
Various Methods of creating and Sending to users
Gather a large amount of crucial data
You can quickly pick up trends and unique suggestions
Builds a sense of consideration among the users
Great Response as it is widely accepted
Cons (Limitations)
Sometimes it can cause Survey Fatigue
Asking Wrong Questions will lead to inaccurate data
Users may skip or quit midway
You may not always receive honest answers
The answers you'll provide must reflect the possible respondent's answers
As you saw above there are pros and some cons of surveys (limitations) this doesn't make the surveys less effective. Still, they are being used by numerous businesses to accumulate crucial data from the respondents. In today's digital world there are many Survey applications that you can use to run surveys. Here we are going to discuss the most effective way of building, sharing, and collecting surveys and their data. The best way to create surveys is by using WordPress Survey Plugins. WordPress is the best Content Management System powering thousands of websites on the internet. WordPress has the support of plugins that help in adding Extra Functionality to your WordPress Website. Also Read: Tips to Secure your WordPress Website!
Creating Surveys Using WordPress Survey Plugins
It is easy to create and share surveys using WordPress as you can directly share them on your WordPress website where the users can participate and give their feedback.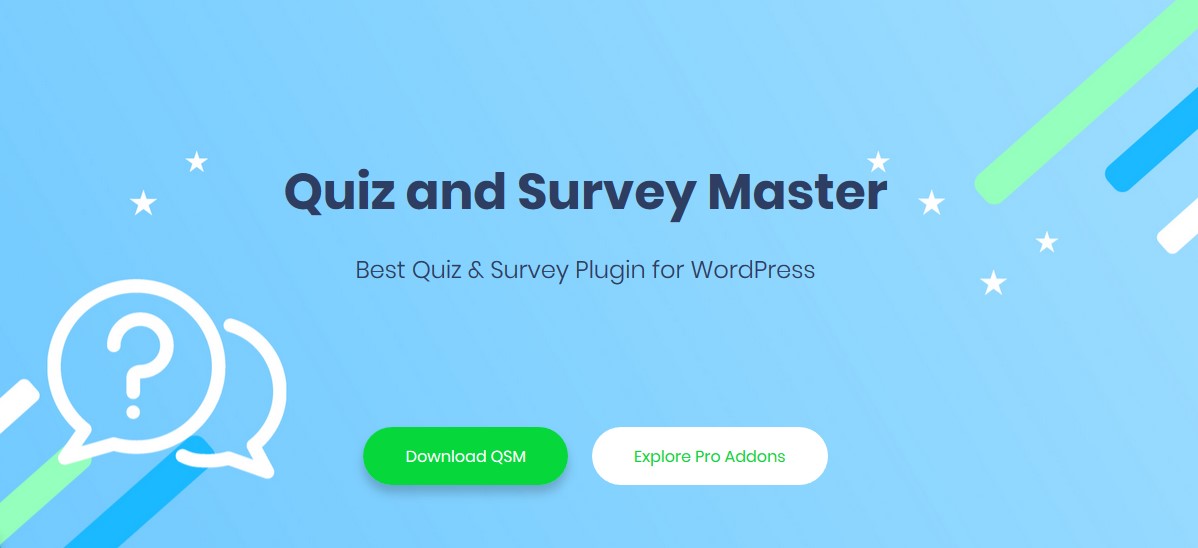 Quiz and Survey Master WordPress plugin is the most popular WordPress Survey Plugin that can be used to create engaging surveys and make the most out of the collected user data. Quiz and Survey Master is an easy to use plugin that can be downloaded for free and installed on your WordPress site to start building surveys right away. It has an exclusive collection of 15+ Question Types that are useful in making the experience worth remembering. You have the liberty to create unlimited surveys and store the collected data for later use. You can also collect the email addresses of the users taking the survey and add them to your mailing lists. Which would be really helpful in getting organic traffic to your website and reduce bounce rate. After collecting the user data you can make the most out of it by utilizing Quiz and Survey Master's Addons. You have the choice of 30+ (Free and Paid) Addons like:
Leaderboard
Certificate
Reporting and Analysis
Aweber Integration
ActiveCampaign Integration
Paypal and Stripe Integration
Google Analytics Tracking
ConvertKit Integration
Slack Integration, and many more…
Using Quizzes and Surveys on your website will improve the user activity on your website and will help your website to rank well in Google Search Results. It is not just a Survey Plugin whereas you can put the plugin to use for making Feedback Forms, Customer Satisfaction Surveys, Employee Satisfaction Surveys, Polls, Questionnaires, Online Tests, Exams, Contact Forms, Viral Quizzes, and more. Also Read: How to create Quizzes with Quiz and Survey Master WordPress Plugin? If you want to know how to create surveys with Quiz and Survey Master WordPress Plugin checkout, This is how you can create a survey in WordPress!
Download Quiz and Survey Master Plugin | Visit Website, To Learn More
Final Opinion
So, After finding the "Pros and Cons of Surveys" will you consider making a Survey for your business needs? Honestly Speaking, Surveys are a great tool for getting straight opinions quickly from the users that is essential when performing Market Research. You need to know all the good-bad things that you will face if your product or service is launched in the market. Also Read: This is how to Hide WordPress Website from Attackers This helps you to prepare and shape your products in such a way that are minimal chances of something getting wrong after launch and improve the product such that it will be generously accepted by the majority of the users. Basically there are no "Pros and Cons of Surveys" but only Pros :p